Who We Are
A little bit about Double D's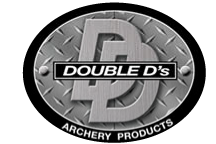 Like us on Facebook!
The Magnum Grip Arrow Puller has proven to be the best arrow puller on the market. Manufactured in Bethlehem, PA using aircraft aluminum and stainless steel hardware, the Magnum Grip Arrow Puller is a quality archery tool that you will reach for time and time again.
We don't think it's the best puller IT IS the best puller on market for the money. Try it and if you don't like return it for a full refund!
Contact Us!
Please use the form below to send us a quick message. We will respond to you as soon as we can! You may also call us at (610) 838-1121.
Finally!
An Arrow Puller that will remove all arrow sizes easily!
No Dip, No Soap
Any Weather any Temperature
Aluminum and Stainless Steel Construction
Reduces Shoulder Fatigue for 3D Shooters (Increases Scores)
Will not crush Arrows (Fits all Arrow Sizes)
Will Save money by retrieving those hard to pull Arrows in Trees, Stumps, Tires etc
Small Compact Design fits in Arrow Quivers or Pocket
What People Are Saying
A handful of customer testimonials...
"I just wanted to let all of you know how much I like the magnum arrow puller. I recently competed in the State Games of America and had the opportunity to use it. My arrows were getting stuck in the targets that they used, and the standard arrow pullers that we had weren't getting the job done easily. We had to yank the arrow, and the grip would slip. Then another competitor let me use her puller. (a DD Archery magnum puller) Wow!! What a difference! I was able to get my arrows out a lot easier, and the puller NEVER slipped. I came home after the competition and ordered one. Yes it was pricey for a puller, but I am SO GLAD I got one. You can bet I will be "talking it up" at the range, and any other competitions I go to. I will NEVER use another manufacturers arrow puller again."

Mike Langley

"I've been bow hunting for 40 years but I'm new to crossbows. I made the mistake of shooting target tips into a broadhead only target. I have a rubber grip style puller that was useless. I had trouble finding one online any better, and I found yours. It arrived today and it works amazingly"

Gary Robbins

"Hey I just wanted to thank you so much. I've had chronic pancreatitis for past 3 years and was very tough for me to pull the arrows out. I love bow hunting and shooting my bow now with your puller you have made it a bit easier on me. Thanks so much for a great puller. It will stay with me at the 3D shoots and let anyone use it I will send them your way."

Ebayer: abner77
Happy with our products? Let us know!